We are women actively engaged in issues vital to our community and country. We work to realize equitable policies and elect progressive leaders in Santa Fe, New Mexico and nationwide.
"Action is the antidote to despair" – Joan Baez
Indivisible SOS Santa Fe is a group of 100 women who want to contribute to a more equitable, democratic and caring community and country. We range from political novices to life-long activists and share a desire to be well-informed and civically engaged.

We are a chapter of the national Indivisible organization, which gives us additional resources and a national presence. The "SOS" in our name stands for Speaking Out Sanely.

Our priorities include reproductive and other civil rights, law enforcement training and accountability, protection of climate and wildlife, strengthening democracy and ensuring voting rights and quality healthcare.

We meet each Monday from 9:30-11 a.m. in-person and by Zoom, often with an expert speaker. Our leadership team of eight is headed by president Ricann Bock.

We ask each member to make a dues payment based on her ability, with no minimum requirement. Our yearly budget is around $10,000, all from member contributions and matching funds from national Indivisible.

We believe in action! We are motivated, effective and we have fun. Our reward is the knowledge that we are making a tangible difference and that we are stronger when united. Our group has given us both hope and an important sense of community.

Please join us!

Our story began in January 2017 when a handful of friends joined the first National Women's March. We participated in Santa Fe, along with thousands of others here and across the world, who were dismayed by the election of Donald Trump. We simply could not go about our lives without protesting. We began meeting weekly, writing letters and postcards, and learning more about the issues that mattered to us. We started calling ourselves SOS: Speaking Out Sanely.
We quickly grew from that small group to 100 members today. Along the way, we invited our national, state and local officials to talk with us. In 2019 we joined the national Indivisible organization, which gives us additional resources and a national presence.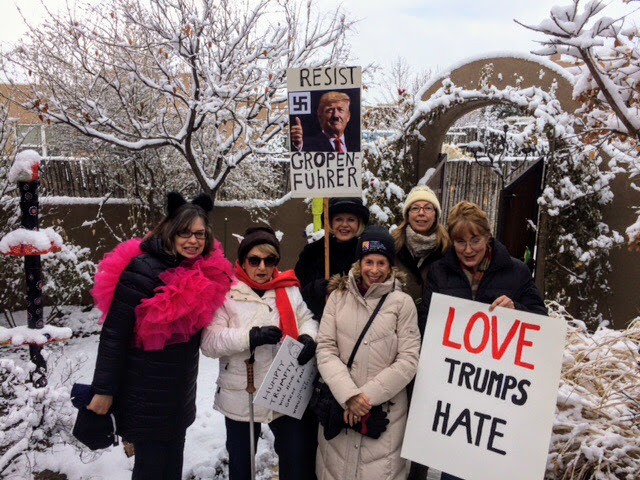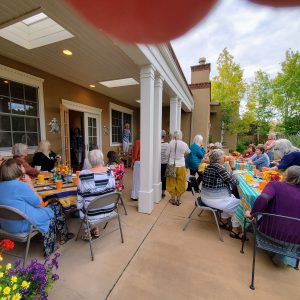 We drafted a bill that creates a system to modernize the training of law enforcement professionals and hold them accountable for their performance. This bill passed, albeit with significant changes, the first time it was introduced in the 2023 New Mexico legislature.

We have established working relationships with local law enforcement leaders in order to improve public safety.

We actively participated in the election of US Rep. Gabe Vasquez in NM Congressional District 2, flipping the seat from a Trump-style Republican, as well as the re-election of US Rep. Teresa Leger Fernandez.
We wrote thousands of letters and postcards, sent texts and emails that resulted in Democrats holding the Senate and minimizing their losses in the House.